First edition of the SFA Championships in Jaipur brings female athletes to the centre-stage with 'She is Gold'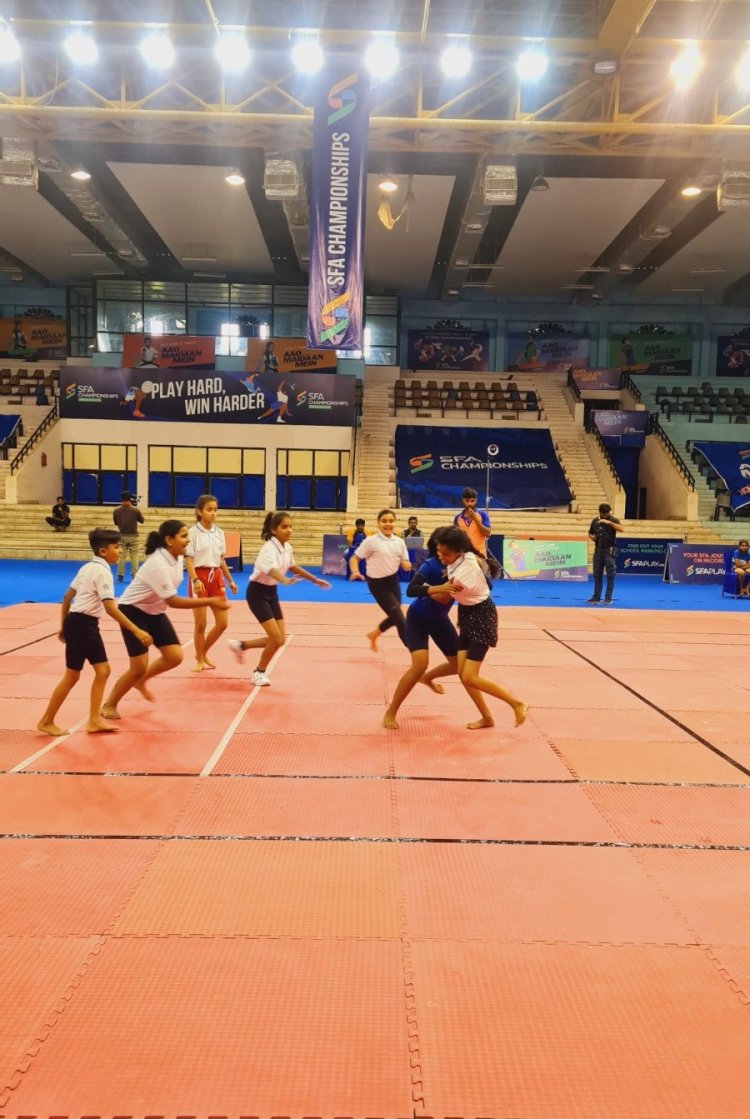 First edition of the SFA Championships in Jaipur brings female athletes to the centre-stage with 'She is Gold'
"She is Gold" is an initiative by SFA to celebrate female athletes, across multi-sports
This celebration saw participation across athletics, badminton, football, kabaddi and tennis
Stellar performances witnessed in Athletics, Badminton, and Kabaddi, as athletes competed at the Sawai Mansingh Stadium
Jaipur, October 17th, 2023: As Day 3 of the SFA Championships unfolded in Jaipur, "She is Gold" took center-stage, celebrating the prowess and determination of female athletes. The day was marked by the participation of more than 250 female athletes from across the state, competing with zeal on the track, the courts an in racquet sports, at the iconic Sawai Mansingh Stadium.
The basketball courts looked glorious with female athlete contingent across schools competing to bring their school on the leaderboard. The U-11 team in basketball (for girls) saw Cambridge Court World School bag all three podium positions and a gold in the U-18 team in basketball, as well! The U-16 team in basketball (for girls) had SS International School pick bronze in the game.
Athletics set the mood for the day with events spanning the 100m, 300m, and 600 m categories for boys and girls from U-12 to U-18. From the nail-biting heats to the pulsating finals, the track echoed with spirit of competition. The U-14 in 100m girls, saw the top three positions going to Cambridge Court World School, with Adwita Sharma at number one, followed by Naisha Malaviya and Nayani Vijay at second and third positions respectively. The U-14 100m boys saw an interesting mix of schools, with Daksh Jangir from Dharav High School bagging gold, Prabhav Singh Rathore picking silver and Dhananjay Soni taking home the bronze.
On the badminton courts, young shuttlers in the U-11 to U-15 male and U-11 and U-13 female categories showcased their agility and precision, keeping the spectators on the edge of their seats. Football had its moments of glory, as the U-10 and U-12 boys delved deep into their league matches, pushing their limits with every pass and goal. Kabaddi was a highlight with the U-14 girls engaged in gripping league matches, foreshadowing the promise of exhilarating action in the upcoming rounds. Additionally, the anticipation is mounting as the finals for U-14 and U-19 boys, as well as U-14 girls, are scheduled for tomorrow, ensuring a day filled with nail-biting competition and thrilling moments.
Nandini Jyoti, an athlete from Maharishi Arvind School, said, ''I pursue this path because I love running. My experience has been very good, and I plan to take sports as a career. I look forward to participate in the SFA Championship again. While I don't have one specific rival, my ultimate goal is to break the PT Usha Challenge and win a medal for India."
As the championships progress, Day 4 promises to elevate the level of excitement. Athletes are geared up to deliver exceptional performances, ensuring that the momentum of these championships remains unparalleled. Stay tuned to see schools in the finals for Basketball and Kabaddi, whereas the athletic track continues to fuel enough fire.