Cambridge Court World School is the 'number one school in sports' at the debut edition of SFA Championships Jaipur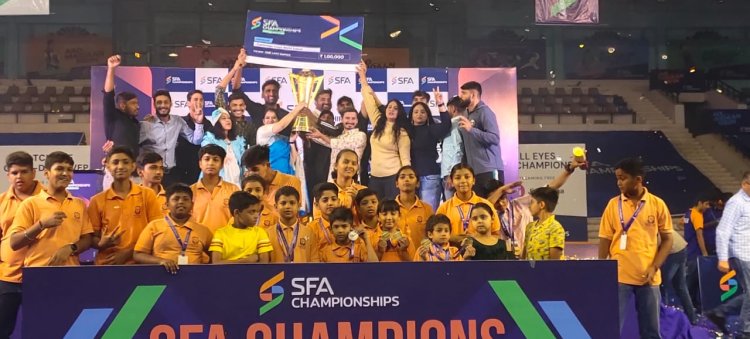 Cambridge Court World School is the 'number one school in sports' at the debut edition of SFA Championships Jaipur
Gunika Baid from Bharatiya Vidya Bhavan Vidyasharam declared Golden Girl and Kartik Jhingoria from Cambridge Court World School Golden Boy
Keynote address by Chief Guest Shri Sohan Ram Choudhary, Secretary, Rajasthan State Sports Council highlights SFA Championships' role in nurturing grassroots sports
Jaipur : As the first edition of SFA Championships, Jaipur, draws the curtains, the city celebrated indomitable spirit and passion of young athletes. The SFA Championships bought alive sporting brilliance like never before, bringing school sports to the centre stage.
In a grand finale, Cambridge Court World School secured its position as the "number one school in sports" in Jaipur. Athletes from Cambridge Court World School clinched impressive podium wins with 25 gold, 24 silver, and 26 bronze medals, displaying unparalleled passion for sports. The school's performance is truly exemplary and deserving of this prestigious title.
SFA Championships also discovered the Golden Girl and Golden Boy for the debut edition of Jaipur. Gunika Baid from Bharatiya Vidya Bhavan Vidyasharam and Kartik Jhingoria from Cambridge Court World School are athletes who displayed commendable performances in more than one sport.
Gracing the ceremony was Chief Guest, Shri Sohan Ram Choudhary, Secretary, Rajasthan State Sports Council. He shared his thoughts on the impact of the SFA Championships, "It's truly inspiring to see the passion and commitment of these young athletes. The SFA Championships have empowered school athletes with a platform to enhance their sporting skills and learn valuable life lessons. These experiences will shape them into well-rounded individuals and assist them to excel in all walks of life. It's a testament to the power of sports in shaping the journey of our future Champions. There is a delightful anticipation and enthusiasm for next year's edition, as we continue to witness the growth and success of these remarkable young athletes."
The SFA Championships have indeed mobilised an ecosystem of budding sporting talent with a league of extraordinary athletes.
The last day of the Championships saw outstanding performances in Kho-Kho, with SS International school bagging Gold in U-14 Girls, U-14 Boys, and U-18 Girls category. Government Senior Secondary School, Bamori emerged victorious in the U-18 Boys category. Swimming was another highlight which featured fiercely contested races across the 50m freestyle and 100m freestyle events for Boys and Girls from U-8 to U-16 categories.
The SFA Championships in Jaipur have discovered champions across multi-sports and democratised access to sports for athletes, inspiring the next generation of sporting enthusiasts. It's a celebration of sports, talent, and the unwavering spirit of youth, contributing to becoming a sporting powerhouse, thereby empowering today's talent to become the Champions of tomorrow.
All the podium wins and the complete scoreboard will be available on the official website www.sfaplay.com. For real-time updates, highlights, and exclusive behind-the-scenes moments, do follow our social media channels – Facebook, Instagram, Twitter.