2500 girl students learn self defense skills from Nirbhaya Squad at city palace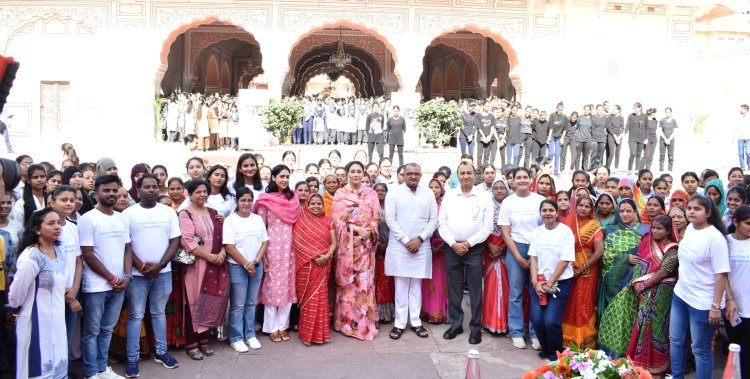 2500 girl students learn self defense skills from Nirbhaya Squad at city palace
Jaipur : To commemorate the completion of 10 years of Princess Diya Kumari Foundation (PDKF), 2500 girl students were given self-defence training by the members of Nirbhaya Squad at City Palace today. PDKF's new project, 'Raksha' was also launched on this occasion. Project 'Raksha' will help empower women to defend themselves physically and legally through self-defence workshops and legal aid. Kshetriya Pracharak of Rashtriya Swayamsevak Sangh (RSS), Mr Nimbaram was the Chief Guest at the event. PDKF President, MP Diya Kumari; Emeritus Chairperson of Mahatma Gandhi Medical University, Dr M.L. Swarankar and General Secretary of PDKF, Princess Gauravi Kumari were also present.
While guiding the girl students in the programme, Mr Nimbaram said that it is very important to have proper mindset, body and facial expressions and practice for learning self defence. While facing your enemy or attacker, you have to be vigilant and fearless instead of running away from them. Therefore, it is crucial to practice the self-defence techniques consistently. He said that looking at the situation in the present times, women and girls should be prepared to protect themselves instead of depending on others for their protection.
On this occasion, MP Diya Kumari encouraged the girl students and said that I feel very proud to see that our daughters of Jaipur are moving forward by learning self-defence. Considering the current situation of Rajasthan, where crimes against women have increased so much, it is the need of the hour that we all become self-reliant and protect ourselves. Diya Kumari further said that it is very important to be fully trained. She said that if we can make even one woman self-reliant, we can bring change in the society. 4000 girls have benefited from the self-defence workshop organised by PDKF. Along with this, MP Diya also expressed her gratitude to Prime Minister Narendra Modi for passing the Nari Shakti Vandan Act. She said that the provision of 33 % reservation for women through this act is a big step towards women empowerment and gender equality.
On this occasion, MP Diya Kumari also congratulated the PDKF members on the successful completion of 10 years.
Under the leadership of Sub Inspector of Nirbhaya Squad, Indira Ahlawat, the masters of Nirbhaya Squad trained the students and gave insightful self defence tips and techniques through demonstration. She also informed the students about various helpline numbers for women's safety, cyber cell, laws and rules related to protection of women.
Girl students from various schools, universities and organisations participated in this event - Government Maharaja Girls School, Rawat Public School, Maharani Gayatri Devi School, Vivekananda Global University, Subodh Public School, The Palace School, MSBS, Mahaveer Public School, Jai Durga School, Jaipur Happy School and Dhruva Bal Niketan. Additionally, women from PDKF (Badal Mahal) and PDKF (Murlipura) also received training on the occasion.